A sneaky autumn breeze wound it's way around Richard's ankles as he knocked on the door. He shivered but he wasn't sure if it the chill was the weather or the butterflies in his stomach. The door opened and Louise stood in front of him. With his heart hammering in his chest Richard took in the way the soft fabric of her dress clung to her curves. Her nails were freshly manicured, French polish. Simple, the way she liked it. Her hair was clean and straightened hanging down over her shoulders but the thing that made his breath catch in his throat was her eyes, slate grey, drilling down into his soul. Without breaking eye contact, she reached up and buckled the collar around his neck. He had to force himself not to look around to see if any neighbours were watching. There was an awkward pause as he stood, collared, waiting for her to invite him in.
"You are not appropriately dressed," she reminded him.
Richard's heart hammered hard against his ribs. She had warned him that he would not enter her house clothed but he did not expect that she would make him strip on the doorstep where any passer-by could see him. He opened his mouth to ask if he could undress in her entry way. She raised her eyebrow ever so slightly and the question died in his throat. Slowly, looking her straight in the eye he removed his shirt, his shoes and socks, and finally, his trousers. The chill wind made his skin pucker with gooseflesh, but he could feel his cock hot and hard, straining against his underwear. A drip of pre-cum moistened his boxers. Her eyes flicked downwards, somehow his cock grew harder.
She stood aside and he stepped through the door, holding his clothing awkwardly. She pointed to a hamper sitting next to the door,
"You can leave your clothes in there," Louise turned to make her way down the hallway.
Without speaking Richard placed his clothes carefully into the hamper.
"And your underwear," she didn't even look back as she gave the last command.
Quickly Richard pulled his underwear down over his butt and dropped them into the hamper. His cock stood out proudly in front of him as he scurried down the hallway after her. He caught up with her in front of a large wooden door. Her eyes flicked downwards. Automatically his hands covered his cock.
"Don't do that," she said firmly.
"Sorry," he felt like a small child being chastised by his teacher. There was a moment's silence.
"It will be OK," her voice softened a little. "If you don't want to do this you can halt any time," she lifted his chin so that their eyes met again. It was the first time she had touched him that evening. His skin responded to the heat of her touch. Her eyes flickered with desire. Did she want him as much as he wanted her? He nodded,
"I am ready." He straightened himself up with his hands by his sides.
"OK then," she turned the handle of the door and pushed it open.
Inside her den two other expensively dressed women reclined on the ornate leather couch. Soft clinging dresses displayed their curves. Low necklines showed the swell of their breasts and sheer black stockings encased their legs. The women looked at him brazenly taking in every detail of his body. With the collar weighing around his neck, Richard forced himself to stand proudly. He didn't want to disappoint his mistress.
"Ladies," Louise purred, did Richard hear a note of pride? "This is Richard. He is at your disposal for the evening however please remember the rules. His safe word is kaleidoscope." She turned and smiled at Richard. "Would you mind making us a drink? The ingredients for expresso martinis are all at the bar."
"Certainly," Richard made his way to the bar and busied himself with the drinks. He was glad of something mundane to do. The methodical process of measuring and mixing calmed his nerves. As he prepared the drinks, he took quick peeks at the two other women. They were a similar age to Louise, early forties, both had the same look of elegance and grooming that can only be bought with a significant amount of money and leisure time to burn.
One of the women caught him looking at them. Heat flushed Richard's face as he quickly looked away. As he served their drinks she looked him straight in the eye as she spread her legs and casually lifted her skirt. The edge of the fabric revealed smooth skin above the top of her stockings and a freshly waxed mound. Taking her drink from him she ran her other hand over the smooth mound before sliding a finger down into her slit.
"Louise says you are very good at pleasing," she said as she took a sip of her drink.
"Mistress is too kind," Richard placed the empty tray on the coffee table and stood before her, waiting.
The woman stroked her finger up and down her pussy as she spread her legs wider, "I think I would like a demonstration of your skills."
Obediently Richard knelt between her legs and touched the skin of her outer labia before leaning down and gently running his tongue over her outer lips. The woman sighed in pleasure and leaned back on the couch. Beside them Louise and her other friend continued their conversation as if nothing was out of place.
Richard's tongue travelled over his new friend's folds, tasting, sucking and probing. As he had been trained, he listened intently to her response tailoring his attention to her responses. Her hands curled into the back of his hair as he slipped a finger inside her opening and moved it slightly against her G-spot. Responding to the increasing moans and thrusting of her hips, Richard began to stoke her swollen clit harder and faster. Juice from her pussy coated his chin before her back arched off the couch as the orgasm gripped her.
The room was quiet as Richard sat back on his heels with his hands resting on her knees. After a few moments she sat up and regained her composure. Richard got to his feet and bent down to collect the empty cocktail glasses.
"Another round of drinks ladies?" he asked calmly.
Do you like things that make you say MMM? Click the button below to put more MMM in your Monday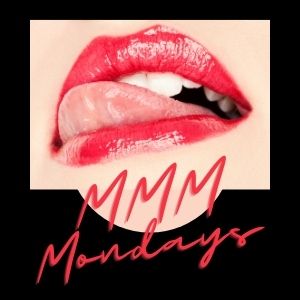 This post is part of this week's Wicked Wednesday. Click on the button below to see who else is being wicked